Meet Aaron Payne
Vice President, FoxFlight Air Ambulance
What's your travel dream and the first place you want to go when it is safe to do so?
Obviously everyone has been affected by COVID, but for me it was a little more personal: due to the pandemic, my fiancé and I were forced to postpone our wedding, which we had planned for the fall of 2020. And, of course, since the wedding was postponed, so was our honeymoon. For our honeymoon we wanted to go somewhere really special, a once-in-a-lifetime destination, so we were planning to go to the Maldives, off the coast of Sri Lanka. For a Canadian couple, the Maldives are just about the most exotic place we could think of – palm trees, beautiful beaches, turquois water, amazing culture. Plus we were planning to stop over and spend some time exploring Istanbul on the way as well. It is definitely a travel dream for us and we are determined to get there one day.
What will you do as soon as you arrive?
When we were researching the Maldives for our trip, we saw images online of these beautiful huts where you can stay built right over the water. The first thing I planned to do when we arrived was drop my bags, walk out on the balcony and dive right into the Indian Ocean. After that, I'd probably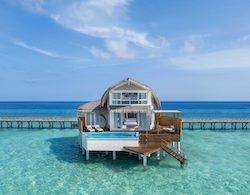 order a Pina Colada, put my feet up and enjoy the ocean breeze. Then maybe some sailing, snorkeling, exploring the island; the whole idea was just to unplug and soak up the luxury.
What is the one thing that people would be surprised to know about you?
My mom worked for the Canadian Broadcasting Corporation for more than 30 years, so I got involved in television production when I was a kid. I was actually in some television commercials and I was even interviewed once on Sesame Street. Later on I worked as a TV production assistant. Also, when I was a teenager, I was really involved in competitive skateboarding.
What is your favourite thing about the travel insurance industry?
I love the fact that we are able to help people every day who are in a really tough situation – sick or injured far from home. Fox Flight is an air ambulance provider, so we get to deal with patients and their families first-hand. Just seeing the sense of relief they get when we pick them up or when they land back in their home country, that's the best part.
If you are a THIA member and would like to be our next Dream On subject, email your photo and answers to the four questions above to info@thiaonline.com.