Franziska Hollenstein (Prime Nursing Care, Inc.)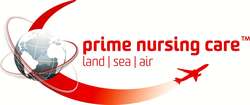 Profile Information
Title: CEO / Flight Nurse
Organization: Prime Nursing Care, Inc.
Website: www.primenursingcare.com
Bio: Prime Nursing Care, Inc. was founded in 2004 by Franziska Hollenstein. As an accomplished Flight Nurse she has completed over 2500 repatriations on Air Ambulance and Commercial Medial Flights and knows what matters in this highly competitive market. Prime receives high rankings from patients, families and insurance companies. With the growth of Prime Nursing Care-Land, Sea & Air and the expertise of their multilingual, compassionate and dedicated professional staff, Prime has been successfully repatriating a wide variety of patients from all continents.
Business Categories: Other Support; Assistance & Service Providers; Repatriation Services