German Montero (Prime Nursing Care, Inc.)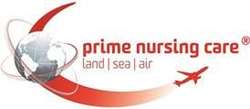 Profile Information
Title: Chief Operating Officer
Organization: Prime Nursing Care, Inc.
Website: www.primenursingcare.com
Bio:
Prime Nursing Care – Land | Sea | Air ® was founded in 2004 by Franziska Hollenstein, a competent and accomplished flight nurse, who has flown over 2500 missions. She has proudly been providing professional medical care and supportive assistance during transport of patients around the globe for almost two decades. With the growth of Prime Nursing Care – Land | Sea | Air ® and the expertise of our compassionate, dedicated and multicultural staff, we have been successfully repatriating a wide variety of patients from all continents. Every member of our team has extensive experience in Critical Care / Air Ambulance Patient Transport around the world, is caring, and possess the skills necessary to complete the mission. Unforeseen medical or logistical challenges are swiftly handled; communication is granted.
Among our recent achievements is the EURAMI (European Aeromedical Institute) accreditation
Business Categories: Other Support; Assistance & Service Providers; Repatriation Services